From Graceful to Great
How does a graceful ballerina, skilled to perform stylish pirouettes and elegant plies, decide that she would rather snowboard and perform upside down rotations off of huge jumps rather than twirl and spin in a ballet studio? From the bar to the backcountry, Silvia Mittermueller knew that there was something a little more extreme on her horizon. So in 1997 at the age of 14, she hung up her ballet shoes for snow boots and began fulfilling her passion of snowboarding.
Silvia's story is one of twists and turns; after almost leaving her career in snowboarding because of a devastating knee injury, she has beat all odds.  In January of 2011, she reclaimed her title as the overall leader on the TTR Snowboarding World Tour. The snowboarders that make up this tour are the greatest in the world and perform all over the globe to capture the titles of who is best and who will lead in the world rankings. Today, Silvia has that title, but how she got here, is a story in and of itself.
Silvia first stepped foot on a board when she began skateboarding for fun. Born in the Alps in 1983, Silvia was raised near some of the world's best ski resorts and so it didn't take long for the fun of skateboarding to turn to the snow. She was quickly turned on to the snowboarding scene where she began to practice and excel at freestyle snowboarding, or more specifically, Slopestyle snowboarding—a snowboarding sport that might very well make its way into the next Winter Olympics. This competitive, extreme discipline is one that involves huge airtime, big spins and complicated rail slides, all performed with the best style possible which means good grabs, tweaks and pokes while flying through the air or sliding on metal bars. Every rider is judged on their jumps and the more difficult the move, the better score the athlete will receive.
For Silvia, going from graceful to extreme had its initial bumps and bruises. In her transition from the two—polar opposite—sports, she admits she wasn't very talented at first. She suffered many falls on both concrete and ice and endured some injuries consisting of broken wrists, cuts and concussions. These injuries did not deter her and it was only a matter of time before she began getting noticed on the snowboarding circuit and traveling the world competing in a sport she quickly began gaining notoriety for.
Silvia spent the next few years on the German National Snowboarding Team and then in 2008 decided to go on her own and independently snowboard and train for events and championships. Well known for her unique style and daring, big jumps, Silvia has made her mark on the international snowboard community and has held her place in the top 10-world ranking during her entire career. She has won silver medals at the X Games, Gravity Games and at the Junior World Championships in halfpipe and, if in 2014 the Winter Olympic Committee approves Slopestyle as an official snowboarding sport, the world may very well get to see Silvia perform the sport she loves.
As with all professional athletes, Silvia's livelihood comes from the sport she trains at very hard every day. No stranger to broken bones and torn muscles, she has been able to endure injuries and learn from them, succeeding each time.
"I have suffered a few sports injuries from snowboarding accidents during my career including a broken wrist (radius) on my first day of trying the sport, a broken collarbone in the Junior World Championships in 2002, some sprains here and there, and some knee injuries throughout the past few years. Knee injuries seem to be the story of my life. In 2007 I experienced my first ACL tear in my right knee. I had this injury fixed in Germany using the Healing Response procedure, however, it didn't fix the problem as I hoped for. In 2008 I re-tore my right ACL while snowboarding in Aspen."
Worried her snowboarding career might be in danger, Silvia visited Dr. Millett at The Steadman Clinic arriving very late in the afternoon when most doctors were seeing their last patients for the day.
"I still remember that day so vividly. Dr. Millett ordered an MRI for me immediately and even though it was well past regular business hours, Dr. Millett and his team stayed with me to go over the results. It was a very hard moment because I had just gone through six months of intense rehab on my right knee and felt I finally was back to my old strength, but then was told by Dr. Millet that the treatment I had done in Germany did not work and that the ACL in my knee was completely gone. I remember how I felt, as if my entire world would collapse right then and there and I just broke down; but at the same time I was so thankful to be in that environment. Dr. Millett could have just gone home like everyone else, but instead he and his team stayed around, gave me advice on what to do, worked really hard to calm me down and helped me get a handle on my emotions. I still appreciate that to this day."
Dr. Millett discussed all of Silvia's options with her and the next day fixed her right knee ACL with arthroscopic surgery to rebuild the torn ligament. Her recovery started immediately with an intensively crafted rehab program.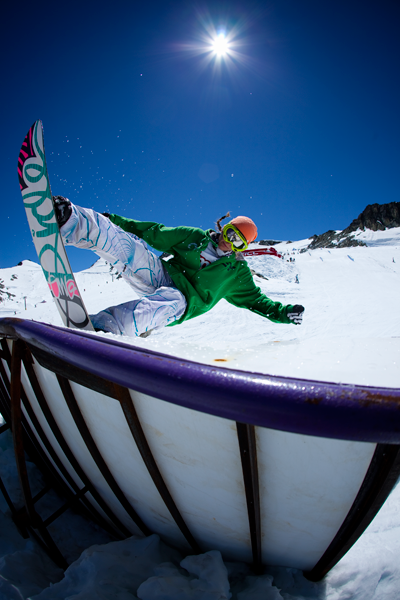 After months of intense rehab, Silvia stepped back on her board and during the 2008/2009-winter season, she won the Canadian Open, placed 3rd in the Asian Open and 4th in the European Open!  According to Silvia, "That season was the best competitive season I had ever had."
Later, in 2009, Silvia tore her left ACL for the very first time during a sports accident in California.  Who did she call?  "The very first person I called, was Dr. Millett. Dr. Millett helped me to get an MRI right away.  I took the next flight to Colorado and was in surgery in a matter of hours. I am so glad Dr. Millett was my doctor because he was able to save over 95% of my meniscus, which is necessary to have to continue my career. I know lots of doctors don't repair meniscus often, but as a high level athlete it's so important to keep as much of the meniscus as possible."
Silvia is now 31 months post–op on her right knee and 12 months post-op on her left knee. Her right knee, according to Silvia, '"feels like nothing was ever wrong with it." Her left knee is coming along well and she has high hopes it will soon get back to that feeling. Now recovered from both injuries, she has made huge strides in regaining her position in the world rankings. She currently resides 3rd on the world-ranking list!
She is very confident to make a full comeback—or perhaps she is already back?
"I have to say, that I have been working very hard in my rehab. I think the success of the outcome of my surgeries is the teamwork of an amazing doctor, Dr. Peter Millett, great physical therapists, and a lot of discipline and focus on my side. The Steadman Clinic is the perfect place for an injured athlete to be taken care of—amazing doctors and the best possible rehab right away when you wake up from surgery. Dr. Millett has been more than just a doctor. I turn to him for advice when it comes to my recovery and well-being. He is hands down one of the best orthopedic doctors around. I am grateful to have found him!"
While clinical studies support the effectiveness of these procedures, individual results may vary. There are no guarantees of outcome. All surgeries involve the risk of major complications. Before you decide on surgery, discuss treatment options with your doctor. Understanding the risks of each treatment can help you make the best decision for your individual situation.  Always ask your doctor about all treatment options, as well as their risks and benefits. Only your doctor can determine the appropriate treatment for your situation. The clinical information and opinions, including any inaccuracies expressed in this material by patients or doctor are not necessarily those of Peter Millett, MD and should not be considered as substitute for medical advice provided by your doctor.